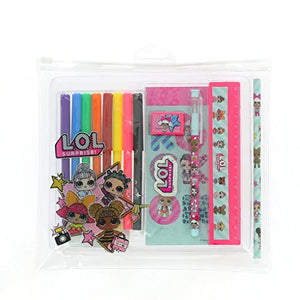 Brand: LOL Surprise
Features:
Content includes a ruler, sharpener, eraser, ball pen, HB pencil, 8 felt pens and a mini notebook
Reusable acetate packaging
Approx. Size: 22cmH x 22.5cmW x 2cmD
Package Dimensions: 9.2 x 8.1 x 0.9 inches
Publisher: Blueprint Collections Ltd
Release Date: 2018-07-01
Details: Celebrate with all of your favourite L.O.L dolls with this deluxe stationery set. Super handy to take around with you wherever you go as this set is packaged in a L.O.L printed zip lock wallet. Perfect for making a statement at school!
EAN: 5055918633029