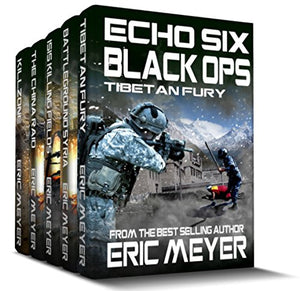 Author: Eric Meyer
Format: Kindle eBook
Number Of Pages: 1433
Publisher: Swordworks
Release Date: 2018-03-12
Details: They are an International elite unit created by NATO to carry out missions where no other could hope to succeed. A mix of Seals, Delta Force, British SAS and French, German and Polish SpecOps operators. Led by a former Navy Seal, Lieutenant Abe Talley. This is Echo Six.

This complete box set contains the full text of the five full length novels. That's right, all five books! Buy the box set today and read them all from start to finish:

TIBETAN FURY
An intelligence failure condemns Echo Six, an elite NATO SpecOps unit, to walk into a bloody trap inside Kashmir. Outnumbered and outgunned, they are forced to retreat under heavy fire. Airlifted back to Afghanistan, Lieutenant-Commander Abe Talley is aware they need time to rebuild. Time to train replacements for those men whose bodies they left behind in the snows of Kashmir.

THE CHINA RAID
Chinese Islamists are poised to strike at the heart of Asia, as they unleash a plan to create a state in the heart of China. NATO has uncovered a plan to blackmail Beijing with the threat of a genocidal attack. Uighur terrorists have created a weapon of mass destruction, and threaten to unleash it on the capital city of the most populous nation on earth if their demands are not met.

ISIS KILLING FIELDS
ISIS strategy is unchanged, to expand their bloody Caliphate by means of conquest and slaughter. Yet the tide has begun to turn against the brutal regime. The Russians have arrived in force, along with their legions of aircraft and armor. In spite of this, the Mullahs ignore mounting losses and continue to send jihadi fighters to probe the Syria/Iraq border.

BATTLEGROUND SYRIA
ISIS is desperate for a new source of cash to fund their brutal campaign. Rumors emerge of a cache of gold hidden in the desert outside the shattered ruins of Aleppo. Buried seventy years before, the bullion is plunder from the Second World War. Treasure that ISIS is searching for, and would fund a devastating new offensive. If they succeed, hundreds of thousands of lives are at stake.

KILLZONE
An ISIS terror group snatches the US Ambassador in France, the latest in a number of high-level kidnaps. After a failed Turkish rescue effort, the President demands they assign the best NATO unit to the task. Echo Six, the Spec Ops unit led by Lieutenant-Commander Abe Talley. Each operator is a veteran of their nation's elite units. Their reputation is legendary.